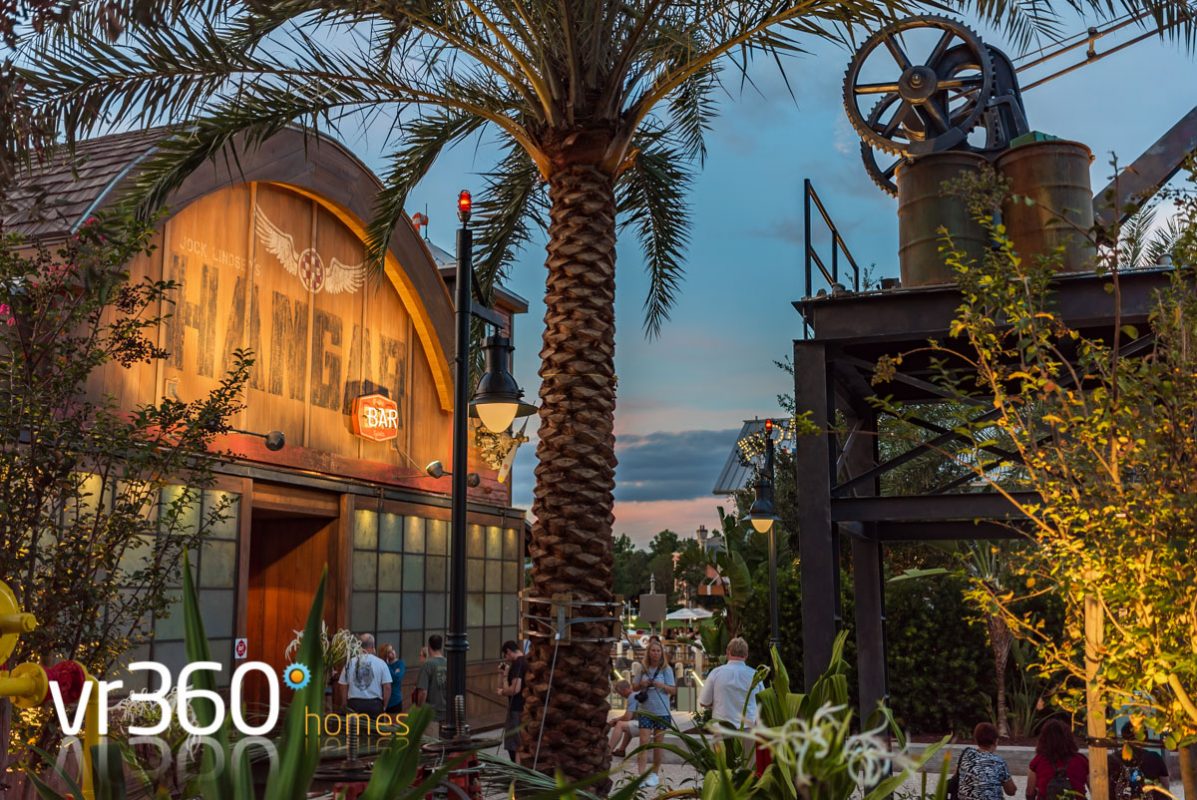 Jock Lindsey's Hangar Bar located at the heart of Disney Springs is a must-visit for fans of Indiana Jones. Serving casual dining fare for all the family, along with some delicious signature cocktails and libations, it has something for everyone. The establishment, unfortunately, does not accept Disney Dining Plan credits or the Tables in Wonderland Card, but at a reasonable price for the area, it is a great choice for a casual meal.
At this table service restaurant, the food options on offer are more on the side of nibbles than a full meal and there is a more limited menu during the late-night dining period. Most of the food has a worldly feel as the menu contains Tacos from Mexico, Pretzels from Germany and flatbreads from Egypt. It is served tapas style and makes for a lighter evening meal. Ultimately, the food on offer is something to snack on alongside signature drinks and cocktails that really make this establishment stand out.
Disney Springs Restaurants
Disney Springs is home to many interesting bars and restaurants since its renovation from Downtown Disney in 2015. Since then lots of exciting bars and restaurants with the fantastic theming Disney is well known for have been popping up.
Disney Springs itself is a fantastic hub for entertainment, dining, and shopping, so it is no surprise that visitors will be a bit peckish after spending some time exploring on their feet. If you are looking for somewhere to eat that isn't as formal and fancy as some of the other dining options available in Disney Springs, then you may be interested in Jock Lindsey's Hangar Bar that provides a much more relaxed and casual dining experience.
Disney Springs itself is located on Disney Property on 1486 Buena Vista Drive just opposite Disney's Typhoon Lagoon, you won't be able to miss the giant hot air balloon as it flies over the springs.
Jock Lindsey's Hangar Bar Backstory
As with many of the restaurants around Disney Springs, Jock Lindsey's Hangar Bar has an interesting backstory itself, describing how the Hangar was built and then turned into a bar for weary travelers.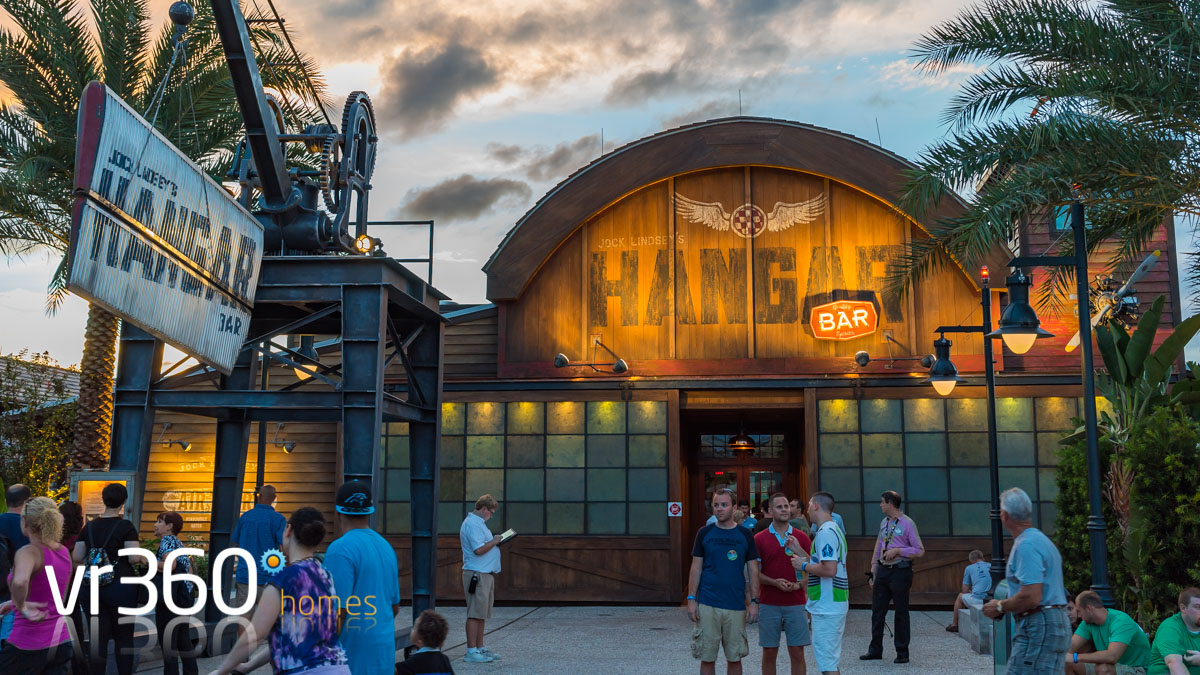 Fans of "Raiders of the Lost Ark" may remember the pilot Jock Lindsey and his pet snake Reggie, but how exactly did the pilot find his way into Disney Springs? Well, it seems that the pair found their way to Disney Springs in 1938 after hearing a tip about something mythological occurring down in Florida.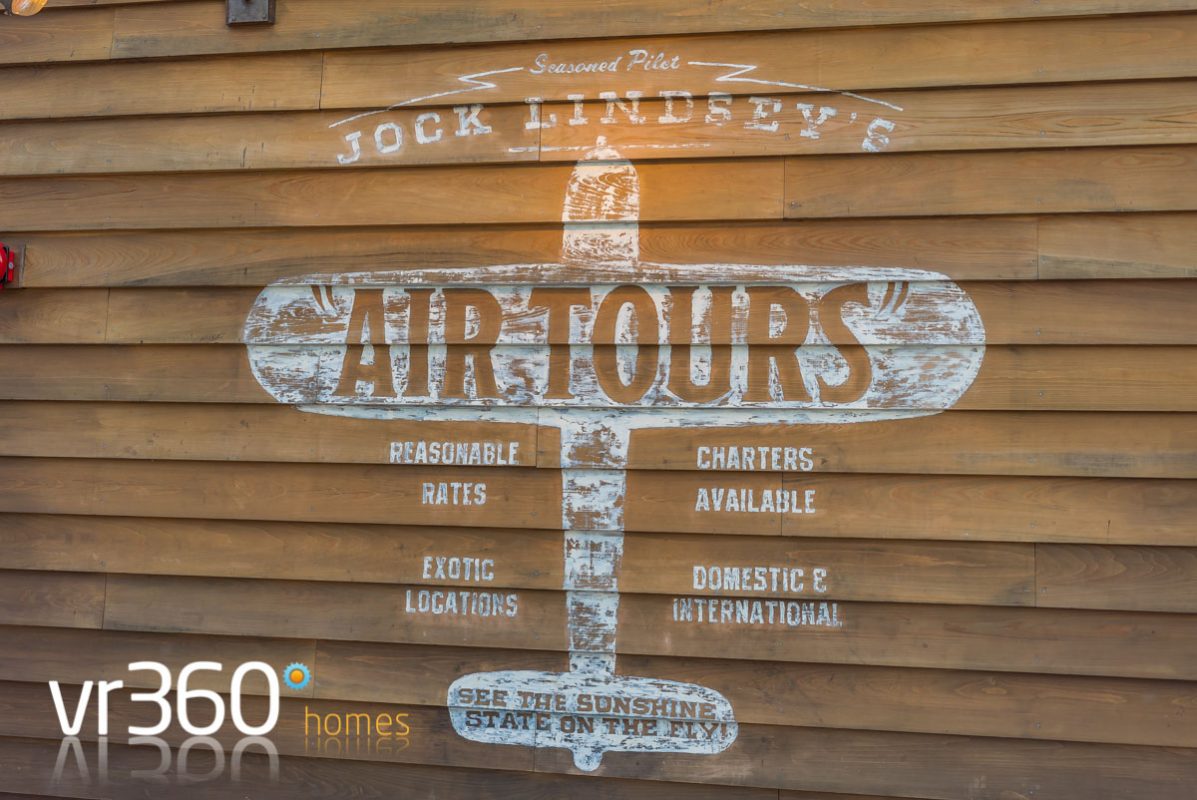 Once they made their way there, they were amazed by the lush scenery and beautiful natural springs and decided to set up shop, purchasing some property and settling down. It is here where he piloted seaplane tours across the rapidly developing state. Over time an airplane hangar, air tower, and runway were built. Esteemed members of The Society of Explorers and Adventurers came to see what he had built and the stop has become a popular stopover for both locals and world travelers!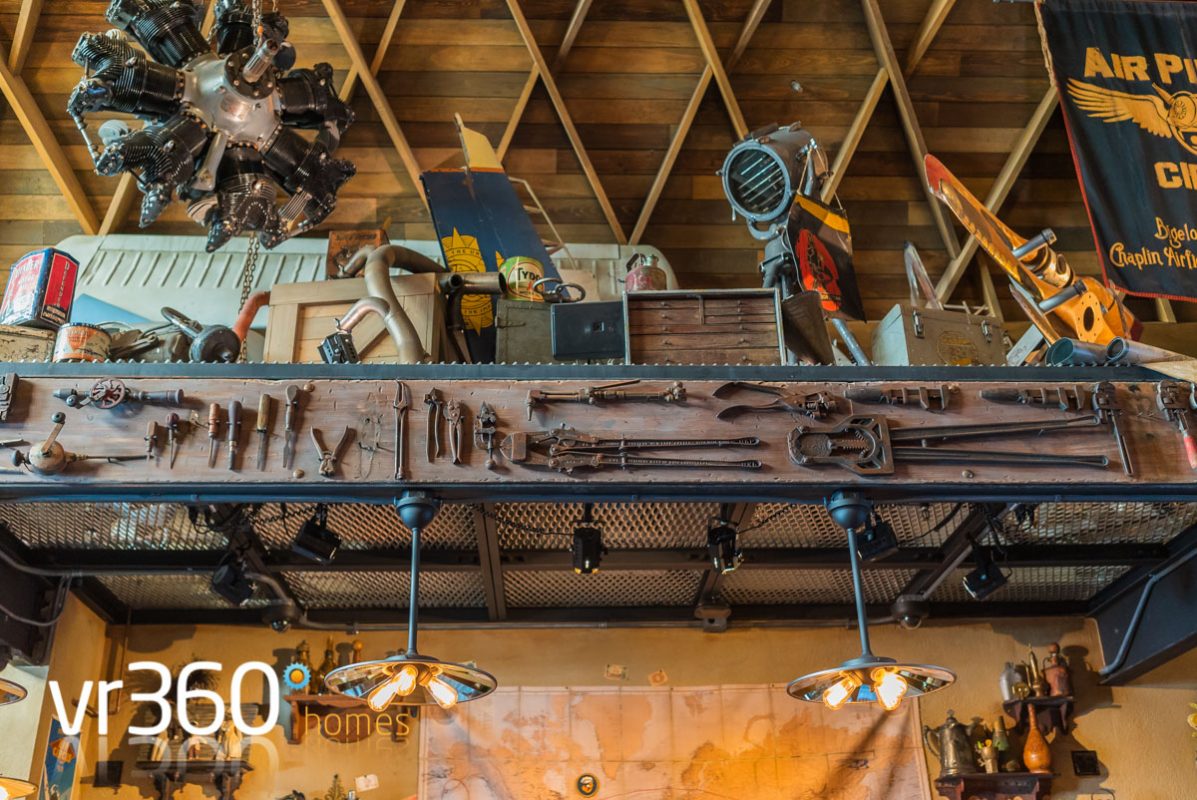 Today, the hangar is not used practically but it a fantastic representation of history! This hangar, full of interesting artifacts and airplane parts perfectly commemorates the days of old. This 1940s airplane hangar turned popular watering hole is a great place to quench your thirst for adventure!
You can enjoy the theming aspects of the restaurant, particularly if you are a big fan of the Indiana Jones franchise. The whole place itself has spectacular theming, imitating a beat-up hangar. It has a cool antique feel as you are surrounded by cool artifacts from the series of films.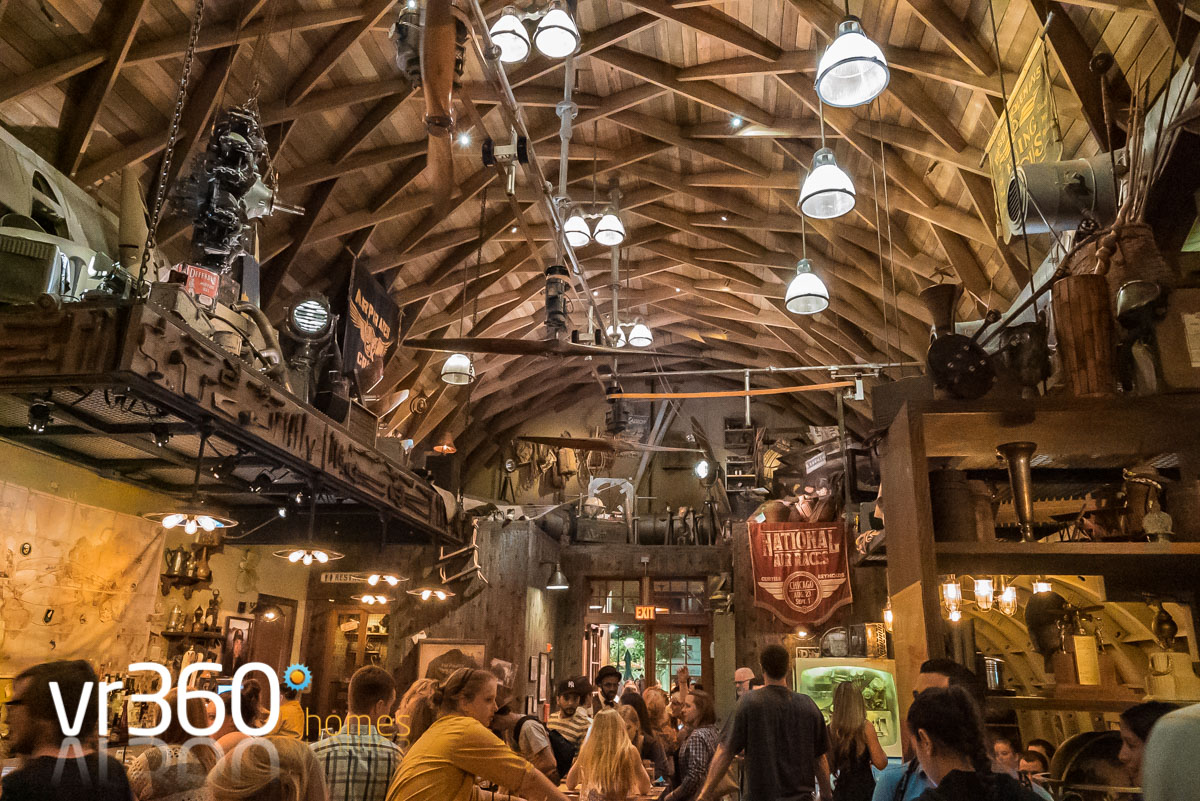 The interior of the bar is very open and warm, giving it a friendly and inviting atmosphere. There are lots of interesting industrial and wooden aspects to the design as well as maps on the wall to really give you a sense of being in a haven for explorers. On the front of the building a huge crane holds up the sign for the bar and it can be hard to miss!
Where is Jock Lindsey's Hangar Bar?
Jock Lindsey's is located in "The Landing" area of Disney Springs, right on the waterfront. It is located near the Boathouse and Paradiso 37. Overall, its location makes for excellent waterfront views over the Disney Springs lake, particularly if you can find an outdoor seat in the evenings when the Floridian sun is not as scorching hot!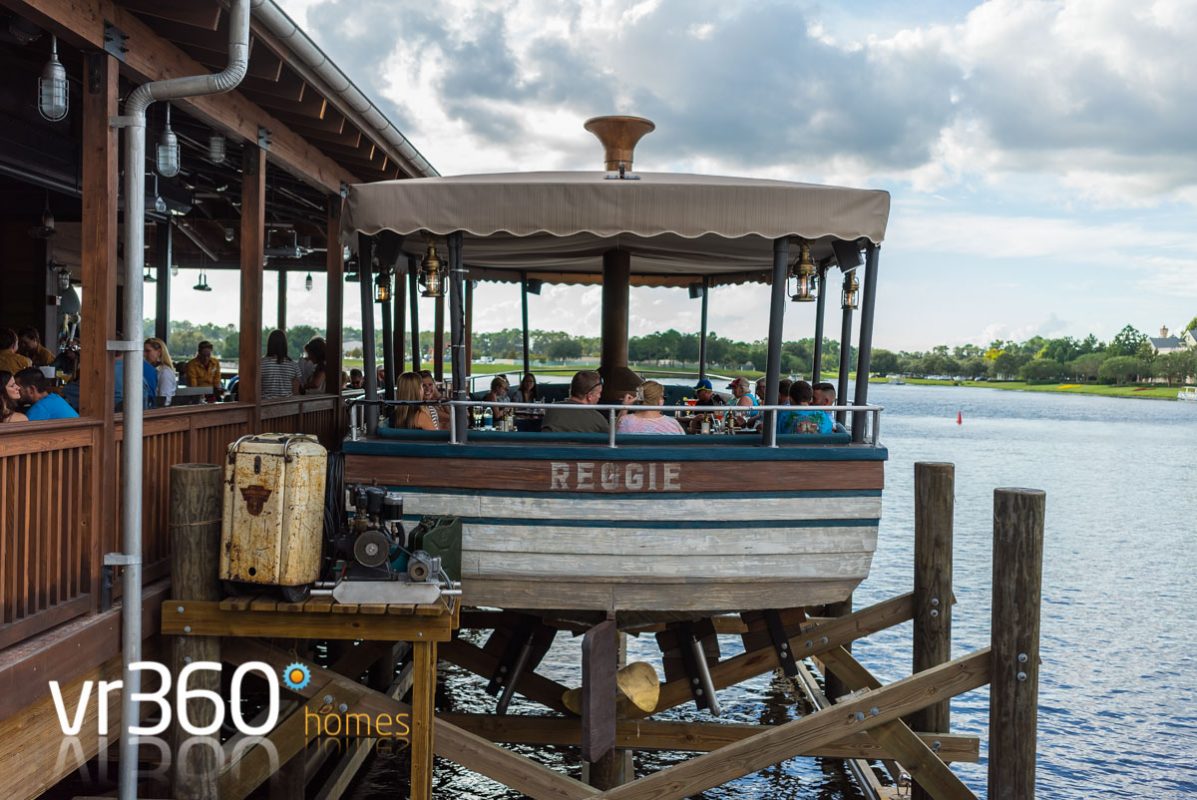 Jock Lindsey's Hangar Bar Menu Options
Everything at Jock Lindsey's Hangar Bar is appropriately adventurer themed, from the Snakebite sliders (Gourmet beef sliders with tomato-bacon jam, costing $12 before tax.) to the Air Pirate's Cargo Loaded Pretzel, stuffed with Prosciutto, Sliced Brats, Artisan Pepperoni, Smoked Cheddar, Black Diamond Cheddar, Caraway Pickles, Spicy Mustard and (deep breath) Beer Cheese Fondue (for $22 before tax.)! Everything on the menu looks positively mouth-watering and there are lots of options for different tastebuds.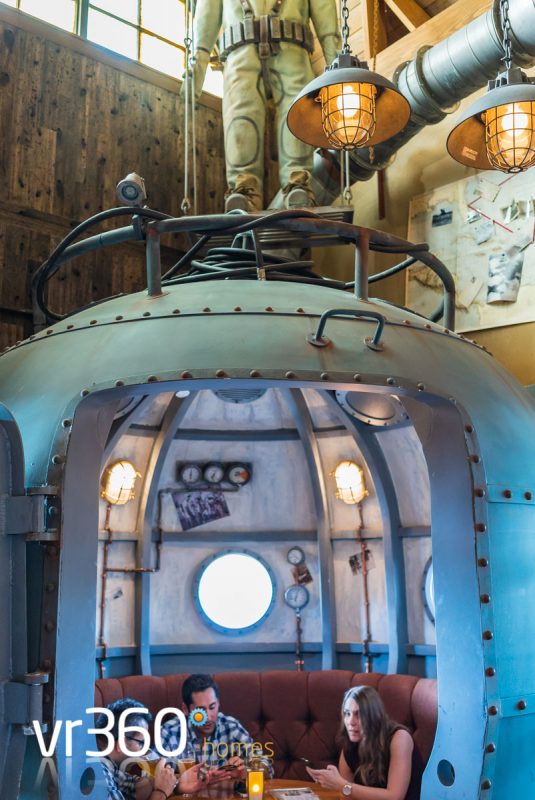 Dining menus include the lounge menu and the late-night dining menu. On the lounge menu, you can expect a series of appetizers, notably including Club Obi-Wan Chicken Wings ($14 before tax) and Satipo's Empanadas ($10.50). Other items on the lounge menu include a range of tacos such as the Taco Al Pastor, a citrus-chipotle pork belly taco at $13 before tax and an Adobo Chicken Taco at $12 with braised chicken, pico de gallo, queso, jalapeno, red cabbage all wrapped up in a grilled corn tortilla.
Seasonal flatbreads are available on an offer of 2 for $16 or 1 for $9 before tax. You can enjoy a Medjoul Date and Manchego Cheese flatbread or Pastrami Rueben flatbread for example. This offer can be enjoyed by one or shared between a couple over a few signature cocktails, making a quick snack nice and affordable.
For the late-night menu, you are limited to a selection of 4 appetizers: Doctor Astorga's Queso Fundido ($12.50), Snakebite Sliders ($12), Air Pirate's Pretzel ($11) and Satipo's Empanadas ($10). You can also enjoy the seasonal flatbreads from the lounge menu.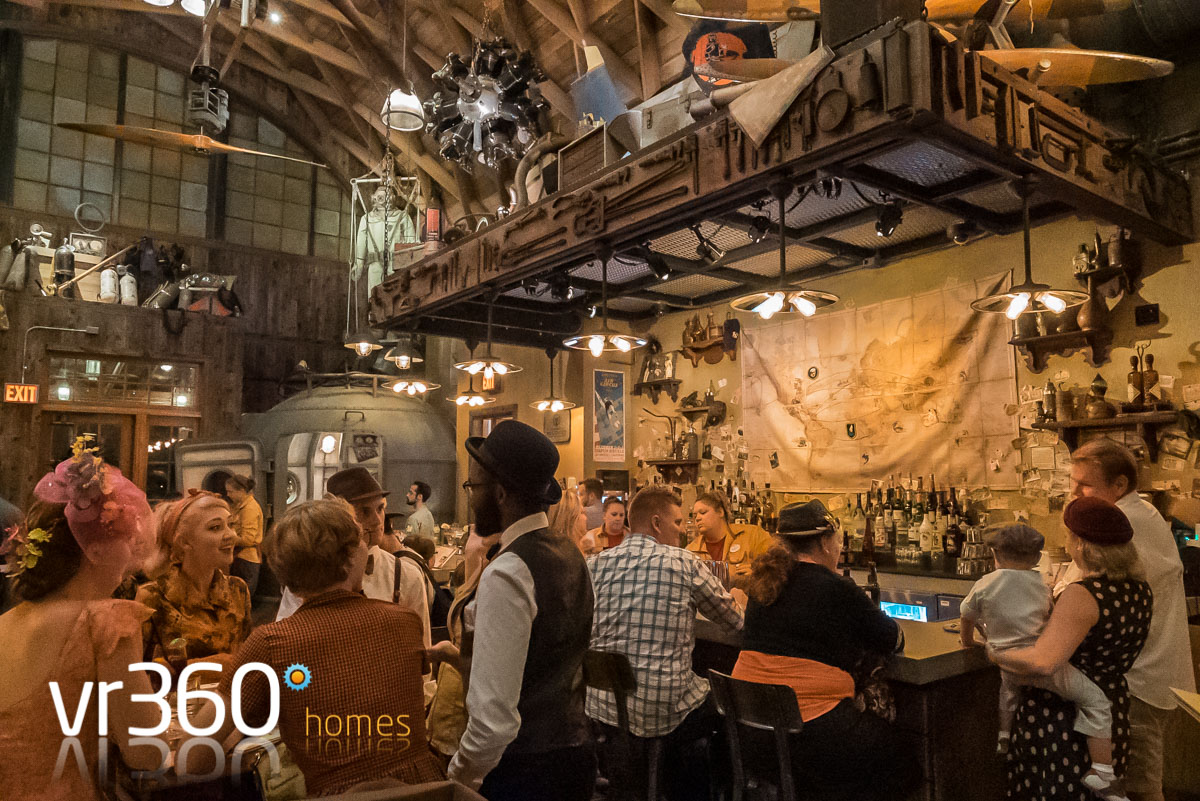 Jock Lindsey's Hangar Bar Drinks Options
Now the drinks are really where the Hangar Bar stands out, with a wide range of alcoholic and soft drinks. Some of the notable cocktails on offer are The Fountain of Youth ($14) which contains St.Augustine Florida Cane Vodka, Bols Blue Curacao, White Cranberry Juice, and Sweet and Sour, and the Anything Goes cocktail ($13) which contains byejoe dragon fire spirit, fresh lime juice, passion fruit, and pineapple juice.
A number of bottled beers and hard ciders are on offer for between $7.75 and $10.25, including popular drinks such as Blue Moon and Angry Orchard. There are some popular and local draft beers on offer such as the Tampa Bay Brewing Old Elephant IPA for $9.25 or a Bud Light for $7.50.
If you are feeling a little fancy, treat yourself to some Nino Franco Rustico Prosecco di Valdobbiadene for $49 a bottle or $12 a glass. There is also a range of sparkling, white and red wines on offer for between $11 and $13 a glass.
If you are up for it, you can also enjoy a flight. There are two flights available, either the Aviators Flight ($16) containing several samples of Single Malt Scotch Whiskey or the Beer flight containing a number of draft beers from Europe and the United States.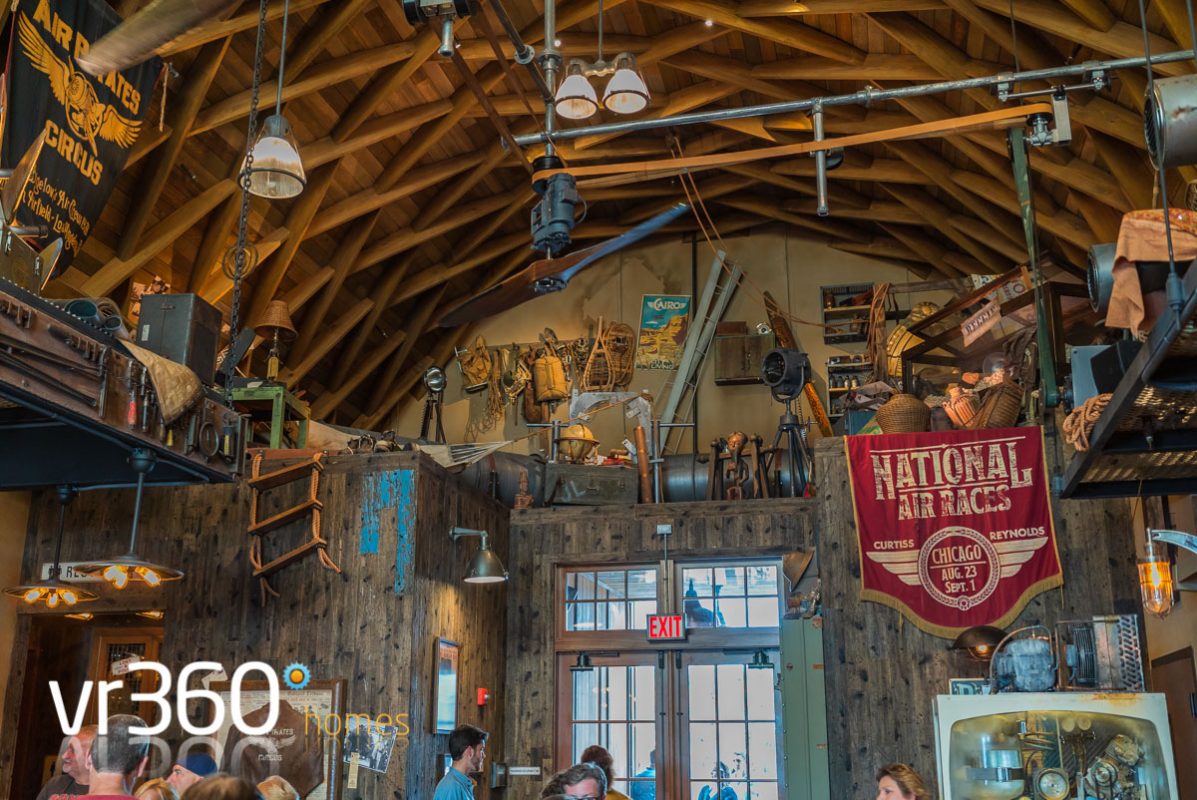 Some examples of seasonal offerings available in the fall (which will vary depending on the year and season) were: Junior's Thanksgiving flatbread, which was a flatbread filled with all the trimmings you'd expect at thanksgiving dinner and Mac's Pork Belly Rueben which was a gorgeous baguette filled with crispy pork belly.
Seasonal drinks including an Autumn Smash, a spiced rum-based beverage, and the smoking Bulleit which consists of Bulleit Rye Whiskey, Monin Hickory Smoke Syrup, lime juice, simple syrups, bitters, and egg whites served over ice.
Jock Lindsey's Hangar Bar Happy Hour?
Fortunately, Jock Lindsey does have a Happy Hour from 3 pm until 6:30 pm on weekdays, where they offer 3 new appetizers as well as discounts on beer pitchers, wine and cocktails. The appetizers on offer (all for $7) are Classified X 3 Chicken Wings, Jock's Loaded Nachos or Belloq's Bacon Fries. A pitcher of beer will set you back $25 and a few select wines and cocktails are available for $7.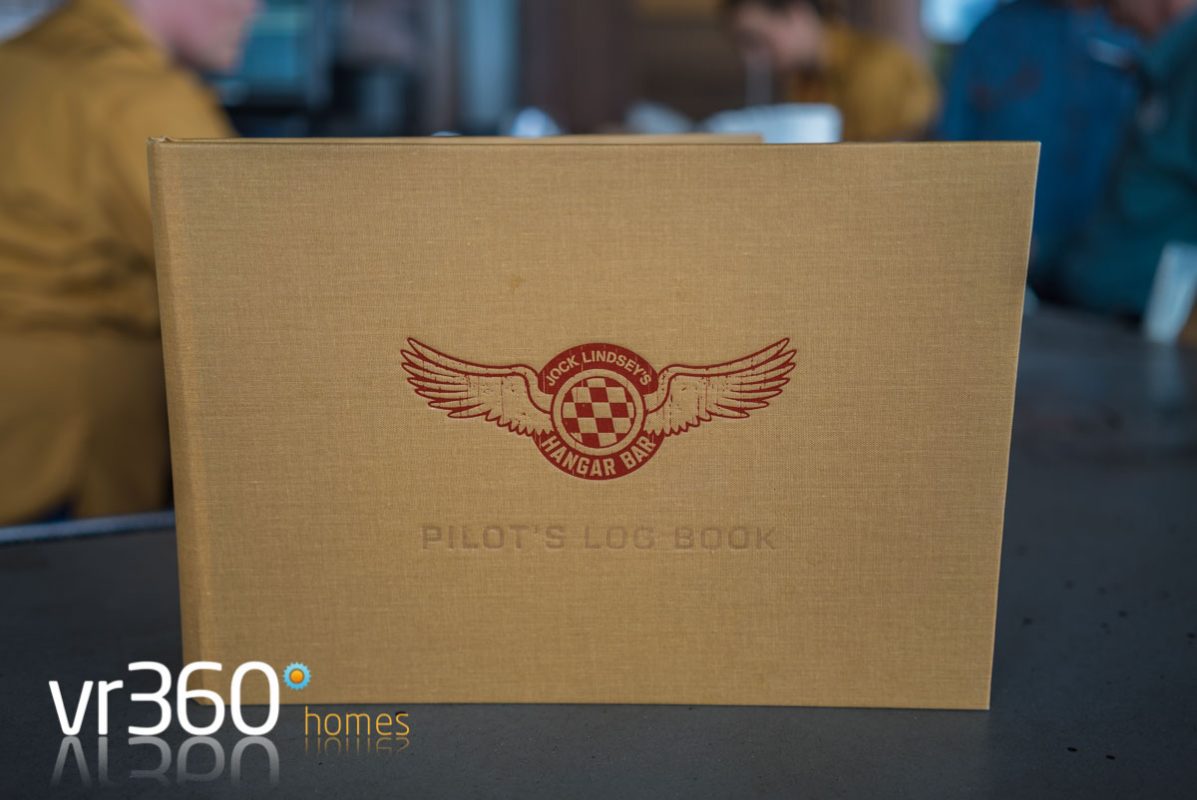 Hangar Bar Opening times
The bar is open from 12 pm-12 am on Mondays through Thursday, it is open at 12 pm-1 am on a Friday, 11 am-1 am on a Saturday and 11 am-12 am on a Sunday.
Overall, Jock Lindsey's is a fantastic bar if you are interested in having some casual eats looking over the waterfront, it has lots of interesting drink specialties on offer and a range of casual eats such as flatbreads, Mexican snacks, and tacos. It is an absolute must for fans of the Indiana Jones franchise as immersive theming really gets you sucked in the story.
Orlando Villa Rentals

When planning your next Orlando vacation, Disney springs will no doubt be at the top of your list to visit. With it's amazing themed restaurants, stunning setting and large selection of shopping. If you are looking for somewhere to stay VR360 has over 850 luxury Orlando villa rentals available. Most are within 15 minutes of Disney Springs and offer large accommodation for the whole family with your pool and bathroom! We have put together a blog post on how to rent an Orlando vacation rental direct from the owners just incase this is your first time.