As well as being a well known travel website VRBO Orlando actually means vacations rentals by owner in Orlando. There are many choices when it comes to booking your next Orlando vacation rentals. VR360homes homes has been going for nearly 20 years and has over 850 Orlando rentals direct via owners.

One of the main differences we offer is there are no service or bookings fees unlike most other last vacation rental websites. All our VRBO Orlando listings have the owners contact details so you can call them directly to ask any questions and book.
You always deal directly with the owners so you get the best deal. All of our Orlando vacation rentals are minutes from Disney and probably the same ones as you would find on VRBO so why not give us a try.
We cover the whole of Florida not just Orlando with VRBO's in Kissimmee, Davenport and Clermont. We also have Gulf Coast vacation rentals in Anna Maria Island, Treasure Island, Cape Haze and Indian Rocks.
Over 850 VRBO Orlando Rentals
Some of most popular VRBO Orlando rentals are on Champions Gate, Solterra Resort Storey Lake and Solara Resort. These are all resort style communities with clubhouses, communal pools, water slides and gated entrances for extra security.
Speaking of security VR360homes has personally visited about 80% of the homes advertised with us. Most owners have been with us for a number of years without any problems. You can see the year they joined on their rental listing page.
Most of our VRBO Orlando rentals have lots of reviews from previous guests so this should help you narrow down your choice. With over 850 Orlando vacation rentals to choose from you it can be difficult to decide. Here is a quick overview on how to choose your next VRBO Orlando rental.
How to choose your next Orlando Vacation Rental
Below is typical list of questions you might want to answer before starting your search for your next Orlando vacation rental. Once you have your check list it will be much quicker and easier to narrow down your results and contact the right owners.
How many guest in your party and how many bedrooms you need?
We have Orlando rentals homes from 2 – 15 bedrooms which can sleep from 4 – 30 guests so that should cover everyone's needs.
Does every one want their own bathroom?
Most homes have a number of en-suite bathrooms or shared bathrooms known as Jack n Jill's. From our experience most guests want their own bathroom so this could be the tricky point when trying to narrow down your search.
Do you need a large pool or are you happy with a splash pool as long as the community has a clubhouse pool?
We have different types of vacation rentals from condo's and townhomes to large custom built rentals. Most of the condos are 2 and 3 bedrooms while the townhomes are 4 and 5 bedrooms. Most of the condos are on resort style communities so you will have access to a clubhouse and communal pool.
Most of our townhomes are on the newer communities and have there own splash pools. These are great for cooling off in but you can't really swim in them. They all have access to fantastic clubhouse facilities like large communal pools, lazy rivers, water slides and kids splash areas. These newer VRBO Orlando communities are the ones I mentioned early in the blog post.
After the townhomes we have what I would class as the typical vacation rentals most of which are two storey a have a good sized pool / deck area. Most also have spas / hot tubs. If you just planning to relax by your own pool then this will be the most important decision you have to make.
Lots of the pools will have a lake view or back on to conservation area which in Florida means woods or brushes. Some will back on to other vacation homes but most of the time there is another room between them so you still have some privacy.
Another big thing to think about is which way does the pool face as believe it or not Orlando can be cold in the winter so you need to have the sunshine. I often find that the wind can be cold but the sun is still warm so you need to make sure your pool is facing the right way.
If you are visiting in the winter months (December, January and February) I would go for a South or West facing pool. The rest of the year it doesn't really matter as the air is warm enough. In the summer months a north facing pool might be best so the kids have a little shade or make sure the rental has a shaded lanai area.
What ever you decide the pool area is one of the most important things to think about when narrowing down your choice.
Where do I want to stay in Orlando?
When guests search for VRBO Orlando vacation rentals they don't realise that most of the homes aren't actually in Orlando. They are all mainly in Kissimmee, Davenport and Clermont, these three areas are all within 5-15 minutes or Disney and around 15-25 minutes of Universal Orlando resort.
One of the main tourist area that people know about when searching for a VRBO Orlando rental is the 192 in Kissimmee. This highway stretches for miles and has hundreds of vacation rental communities just off of it. One of the most popular VRBO Orlando villa communities in Kissimmee is the Windsor Hills Resort. This has been around for about 20 years now but is still maintained to the highest standards and is one of the closest to Disney.
The Kissimmee area is one of best places to stay as it also has hundreds of restaurants, shops and attractions so there is always plenty to do and place to eat.
Here is list of over 50 Kissimmee restaurants along HWY 192.
Another popular area is Davenport which includes The Retreat at Champions Gate, The Shire at West Haven, Southern Dunes and many more. You have easy access to all the Orlando theme parks via Interstate 4 and there are lots of restaurants at Champions Gate.
To be honest with all the Orlando vacation homes being a max of 20 minutes from the theme parks it doesn't really matter too much where you stay. You will pay a little more the closer you are to Disney.
When do I want to visit Orlando?
The busiest times are obviously going to be holiday seasons like Spring break, summer, thanks giving and Christmas so if you can avoid these. Christmas is a great example, it's crazy busy from around the 20th December but the first few weeks of December are really quiet and you still get all the festive lights and parades. You will also pay less for your VRBO Orlando rental if you avoid the peak weeks.
How much does it cost for a VRBO in Orlando?
Work out your budget and then start looking, there is so much choice we will have something for every one. Orlando vacation rentals will start from around $100 per night, this will normally be for a condo or small 3 bedroom home. But compared to a hotel room you will probably be able to sleep up to 4 guests in the condo, have your own bathroom and kitchen.
For a typical 4 – 5 bedroom vacation rental you will be looking around $150 – $200 per night but we have we have lots of homes that are much higher due to the level of furnishings and location.
Once you get in to the 6+ bedrooms you will be paying between $200 – $500 per night maybe more depending on the location of the home and level of furnishings and facilities. But this is still great value compared to hotel and motel rooms due to the number of guests you can accommodate.
Most of the newer, larger vacation rentals have fantastic clubhouse facilities like the Solara Resort below.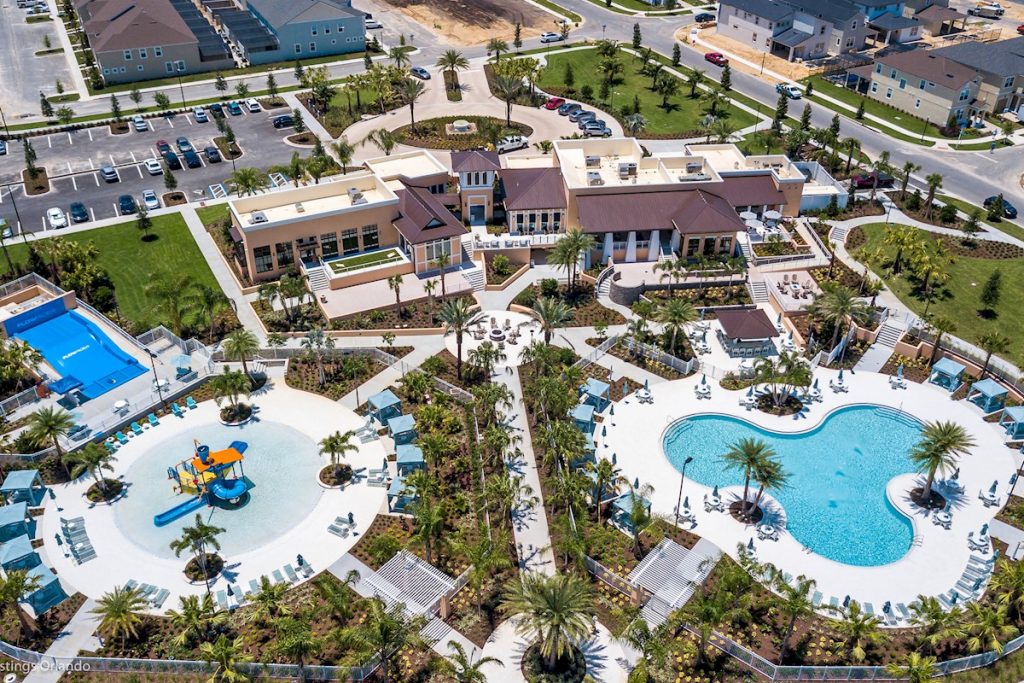 We hope the above information has helped you to narrow down your search for your next Orlando vacation rental. With so much choice it can be difficult to find what you are looking for. But once you have your check list this should make things a lot easier.