West Haven Florida Villas. West Haven is a large community made up of small sub divisions. These include The Abbey at West Haven, The Shire at West Haven, The Hamlet at West Haven and The Sanctuary at West Haven. We have over 30 luxury Orlando villas available on these communities all direct from the owners.
There is also a new section of West Haven currently under construction called the Dales at West Haven. New Orlando villas will be added to this section as they become available. Currently we only have two homes which are a 4 and 5 bedroom.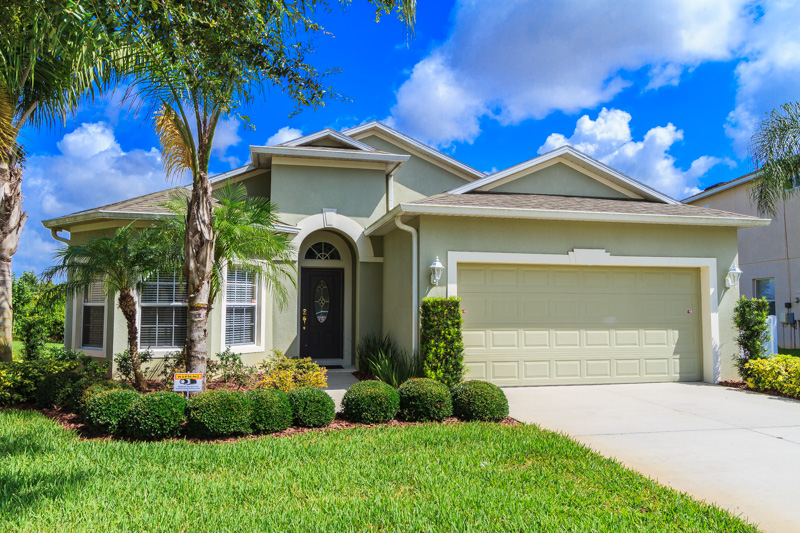 Over 30 West Haven Florida Villas Direct from the Owners!
The West Haven Florida villas community is located just off HWY54 (Ronald Reagan Pkwy) in Davenport. Less than 15 minutes from Disney World and within 20 minutes of SeaWorld and Universal Studios. Legoland Florida is around 40 minutes and Busch Gardens in Tampa is about an hour away.
The West Haven community to close to shops and restaurants at the nearby Champions Gate plaza. Champions Gate is 2.5 miles away and has a Publix supermarket, Chilli's restaurant which serves a Tex-Mex style food. They also have an all day happy hour which is 2 for 1 on beer, wines and house spirits. Over the last few years there are lots more Champions Gate restaurants that have opened.
If there is not enough choice at Champions Gate head to HWY192. With over 50 more restaurants along HWY192 in Kissimmee there is something for everyone. There is also a Wal-Greens pharmacy, McDonald's, Pizzeria, UPS store and petrol station at Champions Gate.
If you are in to golf then West Haven is the perfect base for over 50 local courses. Including two championship layouts at Champions Gate both designed by Greg Norman. The National is a typical Florida course with swamps, trees and long bunkers. The National is more like a links course with very few trees and smaller pot bunkers. There is another course along side this which is Champions Gate County Club. This is a little wider and better for mid to high handicap golfers.
Over 50 Orlando Golf Courses Nearby
Other nearby golf courses include White Heron Golf Club which is the old Ridgewood Lakes club. Highlands Reserve, Providence, Reunion Resort which has 3 courses (Nicklaus, Palmer and Watson). You also have Southern Dunes, Mystic Dunes and of course 3 great Disney courses. The Disney courses tend to be more expensive and pretty busy all the time.
When golfing in Orlando I would recommend looking at golfnow.com for cheaper green fees. You tend to get better rates than booking direct with the golf clubs. The downside of booking with golfnow is you often have to pay in advance and you can't cancel within 24hrs. So if it rains and you may not get a rain check. Each club is different so check their rain check policy before booking. This is only really relevant in the summer months when you get more rain in the afternoons.
West Haven is around 30 minutes from Orlando International Airport (MCO) via Interstate 4 (I4) and the 417 Toll Road). The 417 is a toll road and costs around $5.00 each way. You have a cheaper option to the airport (MCO) via the I4 and State Road 528. The 528 only has one toll booth before you reach the airport and is around $2.00. I personally find the 417 quicker and quieter so tend to take this.
West Haven is less than 35 minutes from Orlando International Airport
If you flying in to Sanford International Airport this is around an hour from West Haven. You have to take the 417 Green Way South to Interstate 4. Again this is a toll road so make sure you have some money with you.
All our West Haven Florida Villas have there own private pools and most have games rooms and spas as well. If you have any questions about a particular Orlando villa. Or any of our West Haven communities please contact the owners direct via the contact form or phone numbers listed.
If you have stayed on any of the West Haven Florida Villas communities please comment below. Let us know what you think. We love West Haven for it's great location to the I4, Orlando theme parks. It's less than 30 minutes to the airport and only minutes from loads of different restaurants.
For more information about our luxury Orlando villas on any of the West Haven communities please visit the links below.
The Abbey at West Haven
The Hamlet at West Haven
The Manors at West Haven
The Shire at West Haven
The Sanctuary at West Haven