Weston Hills in Clermont, Florida is located just off HWY 27 within easy reach of Disney World Orlando. The community has a central communal pool complex, with two swimming pools, a child's play area and tennis court. Weston Hills is very close to a Sweetbay supermarket, pharmacies, and Walmart making it an ideal location for your self catering villa holiday. With family run and chain restaurants on your doorstep, you will also be able to satisfy all appetites! For more information on renting one of our Weston Hills villas, please contact owners direct to book.
Weston Hills Florida Villas 1 to 1 of 1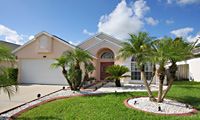 Our home at Weston Hills is a 3 bedroom luxury detached villa with a south facing private screened pool. Weston Hills is situated just 10 minutes from Disney on the fast growing Highway 27.
Click here to see a Virtual Tour and more photos......